The Giancarlo Ramaioli Scholarship Fund - MA in Social Justice and Public Policy
Activelink grew out of a project that Giancarlo Ramaioli began in 1999. Over time, Giancarlo, together with Hyperlink, built Activelink into a leading online resource for the community and voluntary sector.  Giancarlo passed away in 2009. Activelink continues to grow guided by Giancarlo's vision and we have now established a biennial scholarship fund in his memory.
The Scholarship Fund was established in 2020, to replace the Giancarlo Ramaioli Bursary Fund, 2017 - 2019
The Giancarlo Ramaioli Scholarship Fund 2020 - 2022
The Fund established a relationship with Social Justice Ireland and the Waterford Institute of Technology (WIT) whereby it would finance two scholarships on their MA in Social Justice and Public Policy programme. Each scholarship is worth €10,000, which covers WIT's fees and gives the scholar a stipend to cover their basic expenses.
The MA in Social Justice and Public Policy is a two year part-time programme, taught from Dublin, which gives students a unique opportunity to develop a theoretical framework and the deep capacity for analysis, understanding, knowledge, skills and practices needed to engage meaningfully in social change towards a more just and inclusive society focusing particularly on influencing public policy.
All applications were evaluated by Social Justice Ireland, who were responsible for selecting the winning candidates.
The successful candidates for 2020:
Faye Hayden
Faye Hayden has lived in Ireland since 2002, when she moved to Leitrim with her job and felt immediately at home. She grew up in Wales and graduated with an LL.B(Hons) Law Degree in 1998, specialising in human rights law.  She became an Irish Citizen in 2012 and this is something she is immensely proud of. 
Following 15 years in the financial sector, she has held various roles in the Community and Voluntary sector with Foroige, Social Justice Charity; Sligo Social Services and currently runs a support project for Young Carers in Ireland who are significantly under-represented. She also published her first book 'Bedtime Stories for Mothers and Others' promoting mental health in 2019, and is in publication of her first Children's book, 'United we Play' which explains Disability and Inclusion. 
Faye is dedicated to celebrating and supporting diversity and inclusion. She volunteers her time running youth and social clubs for young people with Special Educational Needs and Disabilities aged 10-30 and is involved with the voluntary group Enough is Enough, who campaign for the rights of Disabled Persons and their Carers.
Barry Murphy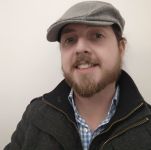 Barry works as an addiction counsellor with the Exchange House Ireland; the National Travellers Service. He previously worked with in the homeless services with Depaul, and is the membership officer of the Ballsbridge Lions Club. In recent years he has become heavily involved in sustainable rehabilitation projects for prisoners and is on the steering committee for the Traveller Women in Prison Initiative. He is very interested in reforming the available services for people from disadvantaged communities, particularly at legislative level. He is especially focused on designing self-empowering service models which are peer run and are designed to address the common pitfalls that people encounter. 
Barry is currently working on a programme for a manufacturing facility which only employs Travellers, ex-prisoners, people with autism, and other people from disadvantaged backgrounds who experience difficulty in gaining stable employment.
Details of the 2022 - 2024 Giancarlo Ramaioli Scholarship Fund will be published shortly.