Foróige - Mullingar School Completion Programme: Project Worker
This item has expired, and will soon be unavailable for viewing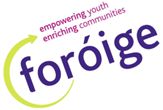 MULLINGAR SCHOOL COMPLETION PROGRAMME :
Job Reference: FRGJOB_221
Foróige is the National Youth Development Organisation, which promotes and fosters youth development through the operation of various youth services in urban and rural areas throughout the country. Foróige is currently recruiting for the following position:
PROJECT WORKER
Project Summary
The School Completion Programme is a targeted programme which aims to increase the number of children and young people staying in primary and post primary school and in doing so improve the number that successfully complete the Senior Cycle, or equivalent. The School Completion Programme works with students aged 4-18. The focus of the Programme is to work with those who may be at risk of educational disadvantage through early school leaving.
The successful applicant will have the following essential requirements;
Empathy, approachability and an ability to relate to children and young people
Understanding of and commitment to the purpose of the School Completion Programme
Excellent interpersonal skills, including ability to build and maintain effective working relationships with children, young people and adults.
Excellent standards of accuracy and attention to detail
Ability to be proactive, use own initiative and work effectively within a pressurised environment
Positive and flexible approach to working as part of a team
Excellent written communication, including strong report writing skills.
Ability to implement and follow organisational guidelines and processes
Good computer skills, including experience of MS Word, Excel & Internet use
Please view the Job spec for full list of requirements.
Applications for the above vacancy should be made by way of Foróige Application form.
The full job spec and Foróige application form are available to download from our website www.foroige.ie Email applications to: recruitment@foroige.ie
The deadline for returning completed application forms is 12 noon 24th September 2021
Foróige is committed to a policy of Equality of Opportunity in its employment practices.
General Info
Date Entered/Updated
9th Sep, 2021
Region
Mullingar, Co Westmeath
Expiry Date
24th Sep, 2021
Source URL: https://www.activelink.ie/vacancies/children-youth/84660-foroige-mullingar-school-completion-programme-project-worker