Join #TeamEpic for the Vhi Women's Mini Marathon!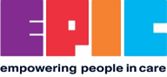 Registration is now open for this year's Vhi Women's Mini Marathon on 5th June and we would love for you to join EPIC staff and Youth Council members for what is looking to be an energising and beautiful sunny Sunday!
At EPIC, we recognise the value and impact of education for any child or young person. We are also very aware of the challenges or barriers young care leavers can face on their education journey. This is why any funds raised will be ring-fenced for our Education Support Fund.
This Fund is a really important support mechanism that helps young people with financial barriers that might result in them having to drop out of college or that stop them from being able to fully participate in or complete their studies.
EPIC's Education Support Fund aims to remove some of these barriers and tackle the digital poverty that can impact a young person's progression.
It might be a course fee top-up that ensures a young person can progress onto their 2nd year of studies.
A leap card to enable them to get to and from college each day.
Or a laptop to complete assignments and dissertations on.
A little help can go a long way in supporting a young person to continue their education or to fully participate and succeed in college. So, this year, we invite you to run, jog, walk or wheel with EPIC staff and Youth Council members and help us grow our Education Support Fund.
The Marathon is taking place on Sunday 5th June at 2pm in Dublin. Please do let us know if you are taking part and would like to join #TeamEPIC on the day.
Let the training begin!
General Info
Date Entered/Updated
3rd May, 2022
Expiry Date
4th Jun, 2022
Source URL: https://www.activelink.ie/community-exchange/fundraisers/90528-join-teamepic-for-the-vhi-womens-mini-marathon